The Sundance Film Festival released its 2022 lineup Thursday. We took a quick glance and found some of the offerings that will be of interest to the LGBTQ community. We will release our Queer Guide to Sundance in our next issue, due Dec. 22. The festival takes place in-person and online Jan. 20–30. Tickets will go on sale to the public on Dec. 17.
The Festival announced the locals-only opportunity Local Lens program providing new and returning film lovers who live in Utah free or discounted screenings. Festival Director Tabitha Jackson says their filmmakers "value and enjoy the chance to get to know our local Festival community up close and personal." She says this year will give Utahns a wide range of options in how they choose to attend the festival, whether it be in person or online.
For Utahns interested in attending the whole festival, there will be a 20 percent discount available from December 17 through January 3. The package includes ten in-person tickets for screenings during the festival.
People who attend the festival must be fully vaccinated against COVID-19 at least two weeks prior to the event. Masks will also be required inside and in lines.
FEATURE / PREMIERE
AM I OK?
Directors: Stephanie Allynne, Tig Notaro
Screenwriter: Lauren Pomerantz
Lucy and Jane have been best friends for most of their lives and think they know everything there is to know about each other. But when Jane announces she's moving to London, Lucy reveals a long-held secret. As Jane tries to help Lucy, their friendship is thrown into chaos.
FEATURE
DOS ESTACIONES
Director: Juan Pablo González
Screenwriters: Juan Pablo González, Ana Isabel Fernández, Ilana Coleman
María García, the last local owner of a tequila plant in a small Mexican town faces the impending collapse of her empire, as her queer hairdresser carves out a space for himself among the conservative townspeople.
Amid picturesque red dirt, blue sky, and green agave fields stands Dos Estaciones, a once-majestic tequila factory struggling to stay afloat. At the helm of the plant reigns Maria Garcia, heir to the family business and beacon to the townspeople she employs. To help oversee the company's administration, Maria appoints an eager woman named Rafaela, whose vibrant presence generates much-needed hope in a home thirsty for a miracle. When a persistent plague and an unexpected flood cause irreversible damage, Maria is forced to do everything she can to save her community's main source of economy and pride.
With a camera that floats effortlessly through the hills of Jalisco's highlands, writer-director Juan Pablo González reflects on the values of ritual, tradition, and artistry as he lovingly captures the painstaking process of making an artisanal bottle of tequila. But it's Teresa Sánchez's standout performance that radiates the essence of the film: a strong-willed woman refusing to allow the impending loss of her legacy as foreign corporations dominate her industry.
FEATURE
FRAMING AGNES
Director: Chase Joynt
Screenwriter: Chase JoyntMorgan M Page
Agnes, the pioneering, pseudonymized, transgender woman who participated in Harold Garfinkel's gender health research at UCLA in the 1960s, has long stood as a figurehead of trans history. In this rigorous cinematic exercise that blends fiction and nonfiction, director Chase Joynt explores where and how her platform has become a pigeonhole. Framing Agnes endeavors to widen the frame through which trans history is viewed — one that has remained too narrow to capture the multiplicity of experiences eclipsed by Agnes'. Through a collaborative practice of reimagination, an impressive lineup of trans stars (Zackary Drucker, Angelica Ross, Jen Richards, Max Wolf Valerio, Silas Howard, and Stephen Ira) take on vividly rendered, impeccably vintage reenactments, bringing to life groundbreaking artifacts of trans healthcare.
Joynt's signature form-rupturing style radically reenvisions the imposition of the frame on the cultural memory of transness through his brilliantly crafted, communally-driven excavation. This reclamation tears away with remarkable precision the myth of isolation as the mode of existence of transgender history-makers, breathing new life into a lineage of collaborators and conspirators who have been forgotten for far too long.

FEATURE
GIRL PICTURE
Director: Alli Haapasalo
Screenwriters: Ilona Ahti, Daniela Hakulinen
Best friends Mimmi and Rönkkö work after school at a foodcourt smoothie kiosk, frankly swapping stories of their frustrations and expectations regarding love and sex. Volatile misfit Mimmi, unexpectedly swept up in the thrill of a new romance with Emma (a driven skater training for the European championships), struggles to adjust to the trust and compromise required by a lasting relationship. Meanwhile, the offbeat, indefatigable Rönkkö hits the teen party scene, stumbling through a series of awkward encounters with members of the opposite sex while hoping to find her own version of satisfaction.
Girl Picture manifests its uninhibited characters' youthful energy and smartly centers the chemistry between its three terrific leads. Within the film's tender, funny exploration of the fears and confusions of discovering one's identity and sexuality, a refreshingly positive portrait of the power of female friendship emerges. Writers Daniela Hakulinen and Ilona Ahti consistently present the film's teen protagonists as complex individuals, while director Alli Haapasalo, rather than aestheticizing the girls' femininity, vibrantly depicts their trials and tribulations through their own eyes.
FEATURE
MARTE UM (MARS ONE)
Director and Screenwriter: Gabriel Martins
The Martins family are optimistic dreamers, quietly leading their lives in the margins of a major Brazilian city following the disappointing inauguration of a far-right extremist president. A lower-middle-class Black family, they feel the strain of their new reality as the political dust settles. Tércia, the mother, reinterprets her world after an unexpected encounter leaves her wondering if she's cursed. Her husband, Wellington, puts all of his hopes into the soccer career of their son, Deivinho, who reluctantly follows his father's ambitions despite secretly aspiring to study astrophysics and colonize Mars. Meanwhile, their older daughter, Eunice, falls in love with a free-spirited young woman and ponders whether it's time to leave home.
Writer-director Gabriel Martins weaves a tender and uplifting tapestry of a Brazilian family whose affection for each other is palpable in every frame, mining his delightful cast for authentic performances brimming with humor and charm. Delicately balancing its characters as they find themselves and their country at a crossroads, Marte Um (Mars One) invites us to dream beyond the stars.
SERIES
MY TRIP TO SPAIN
Cinematographer: Arlene Muller
Director and Screenwriter: Theda Hammel
Alexis, a successful trans woman, is heading to Spain for cosmetic surgery. Her embittered old friend Charlie arrives to house sit while she's away. During the handoff, he tries his best to convince her to cancel, while simultaneously pursuing a sexual liaison with her brooding gardener Bruno.

FEATURE
SIRENS
Director and Screenwriter: Rita Baghdadi
True to their name, Slave to Sirens — the first and only all-woman thrash metal band in the Middle East — are utterly magnetic. Amid a backdrop of political unrest and the heartbreaking unraveling of Beirut, five bandmates form a beacon of expression, resistance, and independence. Director Rita Baghdadi follows founders and guitarists Lilas Mayassi and Shery Bechara as their tenderness, and sometimes bitterness, for one another grows in ways both unexpected and deeply moving. Joined by vocalist Maya Khairallah, bassist Alma Doumani, and drummer Tatyana Boughaba, these women negotiate their emotional journeys through young adulthood in tumultuous circumstances with grace, raw passion, and a ferocious commitment to their art. Their grit is tested as they grapple with the complexities of friendship, sexuality, and the destruction around them.
Sirens is Rita Baghdadi's third documentary feature. Acting as director, producer, and cinematographer, her singular vision is gentle yet emotionally powerful. Her film and its incredible subjects are inspirations to all who seek light through darkness.

NEW FRONTIER: PROJECT
ATUA
Artists: Tanu Gago, Jermaine Dean
If your gods could whisper in your ear, what would they say?
ATUA reimagines the realm of Pacific gods in this sculptural AR experience that claims space for gender diverse identities impacted by colonial first contact, and creates an intimate portal for users to see themselves reflected as vital to their cultural heritage and an intrinsic part of the cosmos.
Enabled through handheld devices, the ATUA experience begins with Te Kore, the void – a space of abundance and limitless potential.
Activated through the power of augmented reality, witness as Te Kore is manifested into the physical realm as a cosmic being, forged of ancestral memory and adorned in cultural navigation.
Become immersed in an expansive tale of time and space, in this intimate user experience that reframes Pacific cosmology through a Queer Indigenous lens.
SHORT
575 CASTRO ST.
Anniversary Short
Director: Jenni Olson
Set to the original audio cassette recorded by Harvey Milk in November 1977 to be played "in the event of my death by assassination."
SHORT
A WILD PATIENCE HAS TAKEN ME HERE
Director and Screenwriter: Érica Sarmet
Tired of loneliness, a middle-aged motorcyclist goes to a lesbian party for the first time. There she meets four young queers who share their home and affections. A wild patience has taken me here is an encounter of generations and a tribute to those who brought us here.
SHORT
BUGCRUSH
Anniversary Short
Director and Screenwriter: Carter Smith
A small-town high school loner's fascination with a dangerously seductive new kid leads him into something much more sinister than he ever could have imagined.
SHORT
EGÚNGÚN (MASQUERADE)
Director and Screenwriter: Olive Nwosu
In search of healing, a young woman returns home to her birthplace: Lagos, Nigeria.
SHORT
Director: Harris Doran
A queer, Black, aspiring Baltimore rapper must outwit his vengeful day-job boss in order to avoid getting fired after accidentally eating an edible.
SHORT
FOR NONNA ANNA
Anniversary Short
Director and Screenwriter: Luis De Filippis
A trans girl caring for her Italian grandmother assumes that her nonna disapproves of her. Instead, she discovers a tender bond in their shared vulnerability.
SHORT
GREETINGS FROM AFRICA
Anniversary Short
Director and Screenwriter: Cheryl Dunye
A candid view of the state of things in 1990s lesbian dating.
SHORT
HOLD UP
Anniversary Short
Director: Madeleine Olnek
Screenwriters: Jen Heck, Cynthia Kaplan, Nancy Giles, Dennis Davis, Madeleine Olnek
A robber is after more than money at a convenience store holdup.
SHORT
LA CORONA (THE CROWN)
Anniversary Short
Directors: Amanda Micheli, Isabel Vega
Female murderers compete ferociously for a beauty pageant crown in prison.
SHORT
MAKASSAR IS A CITY FOR FOOTBALL FANS
Director and Screenwriter: Khozy Rizal
In a city where men have to go crazy about football, Akbar has to pretend to love the game in order to prevent rejection from his new college friends.
SHORT
PRAYERS FOR SWEET WATERS
Director: Elijah Ndoumbe
Stories intersect across vivid realities and dreamscapes to submerge us into the worlds of three transgender sex workers living in Cape Town, South Africa during the COVID-19 pandemic.
SHORT
STARFUCKERS
Director and Screenwriter: Antonio Marziale
An intimate evening between a film director and an escort is disrupted when a familiar face arrives.
SHORT
TREVOR
Anniversary Short
Director: Peggy Rajski
Screenwriter: James aka Celeste Lecesne
A poignant and liberating look at a 13-year-old as he begins to discover his sexual identity.
SHORT
WARSHA
Director: Dania Bdeir
A Syrian migrant working as a crane operator in Beirut volunteers to cover a shift on one of the most dangerous cranes, where he is able to find his freedom.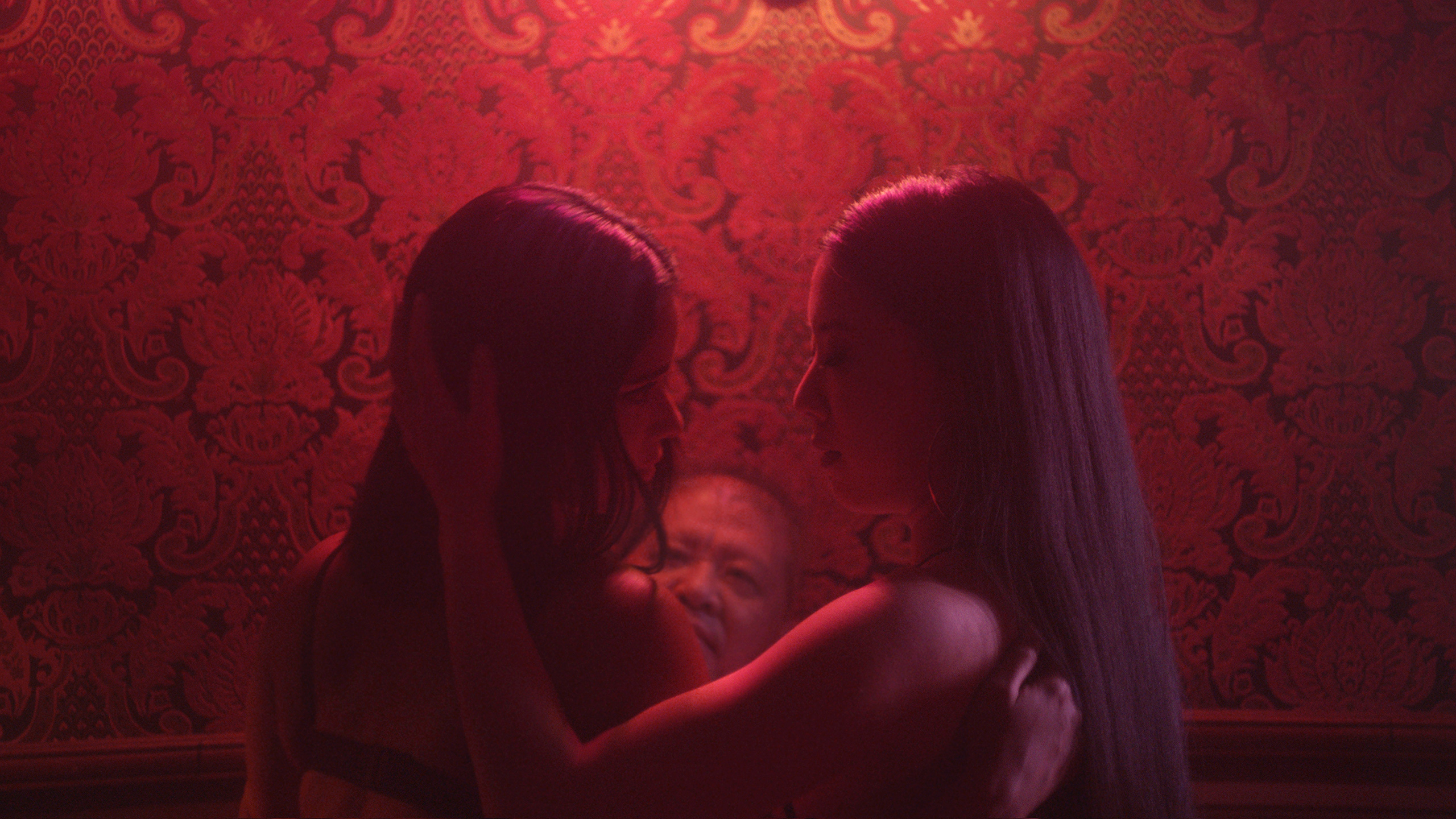 SHORT
WORK
Director: April Maxey
Unable to move on from a breakup, Gabi, a queer Latina freelance editor, impulsively drops into an old job at an underground lap dance party, where she unexpectedly runs into a friend from her past.
More information and the full film lineup at festival.sundance.org