Arts News
'Antony & Cleopatra' director produces unexpected gender-fluid story. Final 3 days.
Editor's note: New World Shakespeare Company's "Antony & Cleopatra" is set during the War of Actium. It stars M Smiley as Mark Antony, Elizabeth Hanley as Cleopatra, and a cast of nine others in a production that merges depictions of ancient Egypt and the contemporary Western World, and which is imbued with themes of gender expectations, evolving identity, and self-worth. The production is a benefit for the Trans Lifeline, the nation's only crisis hotline staffed by trans people for trans people.
by Blayne Wiley
"Antony & Cleopatra" is a rarely produced epic story. Our modern version defies comfortable gender roles and deconstructs basic, presumed categories to promote the diversity and autonomy of the individual. Our production is gender-fluid, power-fluid, and time-fluid. Non-binary and unexpected casting allows us to portray surprising and ever-changing power dynamics and break down our arbitrary human constructs, all while telling a familiar and quasi-historical story.
Ranging over the Mediterranean world from Egypt to Rome to Athens, Sicily, and Syria, "Antony & Cleopatra" presents a whirlwind of global conflict focused around the tremendous passion of two people. The effect is a dizzying rush of events, wherein the examination of two complex, fascinating characters gets an unusual treatment for a classical tragedy: rather than conclude with the prescribed pity and terror as seen in pieces like "Hamlet," "Macbeth," "Othello, and "King Lear," "Anthony & Cleopatra" ends very differently with pity and triumph, as the title lovers, who have lost the world, enact a kind of triumphant marriage in death. Losing everything, they manage to win much more by choosing to love over worldly power.
Shakespeare's cast of characters includes at least 43 people as well as several Ladies, Eunuchs, Captains, Officers, Soldiers, Attendants, and Servants. We have reduced it down from five hours to three and settled on 11 actors playing 17 characters which employ the "Wizard of Oz" effect to tell a complex story. "You were there, and you and you."
Antony & Cleopatra contains suggestive humor, verbal abuse, violence, death, and suicide and may not be suitable for all viewers.
Through Aug. 20 at the Sister Dottie Dixon Blackbox Theater at Trolley Square. For more information or to order tickets, visit newworldshakespeare.com.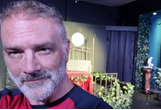 Blayne Wiley is the New World Shakespeare Company's founding Artistic Director. He has been acting and directing on Utah stages since 1983. Favorite past roles include: James/John in Love, Valour, Compassion (Wasatch Theatre Company), Steve in Jeffrey (Theatre Works West), Mike in Wait Until Dark (Egyptian Theatre), Jeff in The Curious Savage, Yank in The Hasty Heart and many others. He directed Romeo and Juliet (2012 & 2022), A Midsummer Night's Dream, Love's Labour's Lost, The Taming of the Shrew, Julius Caesar and Titus Andronicus for NWSC; and played Prospero in our production of The Tempest, Cymbeline in Cymbeline, and Witch One in Macbeth. He would like to thank Mom for her continual inspiration and his wonderful husband, Dustin, for using his endless talent to always create magic in their lives